Mon 15 Feb 2010
Yes I know, we've traveled down that road more than any of us care to admit. This is a slightly different route and definitely an interesting ride.
On Season Four's Reunion Show, filmed on 1/31/09 Andy wraps up the Jay Photoglou conversation.
Andy: "You are single right now?"
Gretchen: "Yes."
Andy: "This man who has been calling Tamra is not your boyfriend?"
Gretchen said no.
Vicki: "Do you sleep with him?"
Gretchen: "No."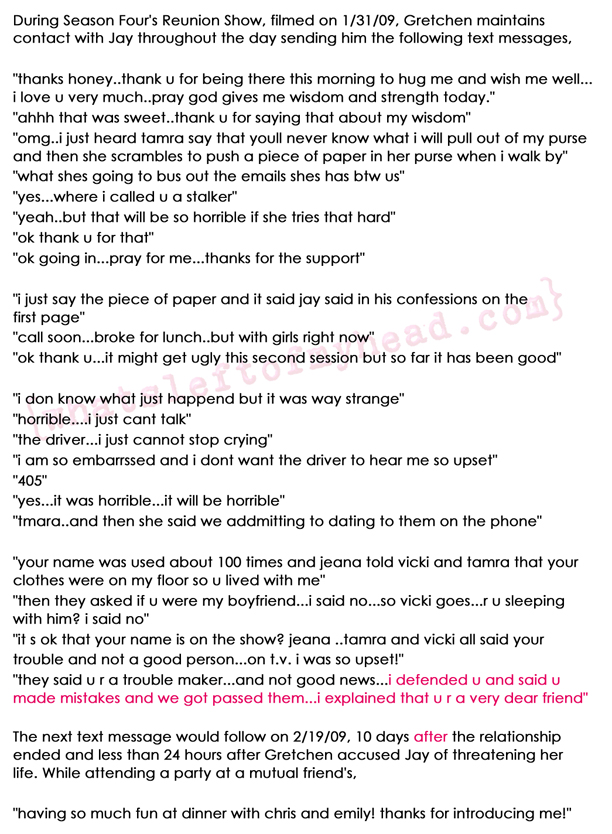 So did I mention there was a
fork

in the road?? You can either go with  I got your back Jay, or veer to the left towards I'm always the victim..because it appears taking the high road isn't an option. Careful with your decision, all it takes is one wrong turn and you could end up lost within your own little world

too

.
And isn't it so typical to send a smart a** message to someone you claim had threatened your life less than 24 hours earlier?  Just saying…
*I just came across something else rather interesting, check back later… (no traveling involved )
---
No Responses to " Pseudologia Fantastica? "
Comments:
Leave a Reply