Wed 17 Feb 2010
On February 9th, a happy Gretchen shares with her Facebook fans that THEY were "celebrating today" with a date night together. They have so much to celebrate right now, one can't help but wonder what the joyous occasion might be…or who's going to pick up the tab!

On Feb 14th, Tao Group Blog reports Gretchen and Slade were celebrating more than just Valentine's Day in Sin City for the weekend, they were also celebrating "their anniversary."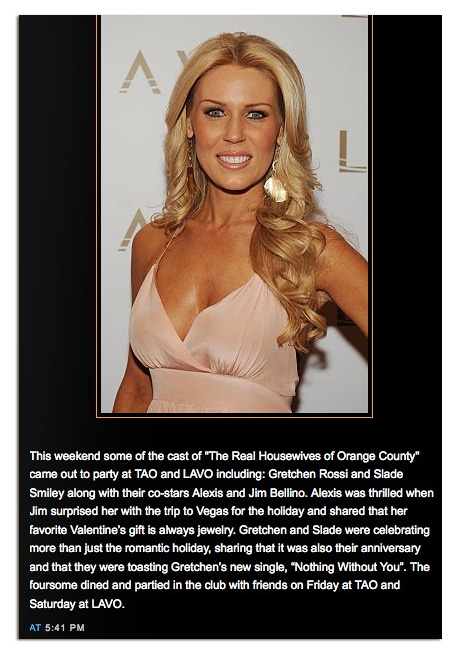 Gretchen writes on her Nov. 19th blog entry entitled "Survivor" that her and Slade did not even begin "hanging out" until 6 months after Jeff had passed away. Sept. '08 + 6 months = March '09. She also states they have been together for 8 months. Nov '09 – 8 months = March '09. Doesn't exactly make sense to celebrate "their anniversary" in Feb. Maybe they
had court dates

couldn't make it to Vegas next month so they celebrated early?

And March is about the time the
staged

photo's began surfacing. Remember?
(could they have been celebrating the anniversary of Slade's arrest at Gretchen's house last February? Mmm…probably not, that was the 20th, not the 9th)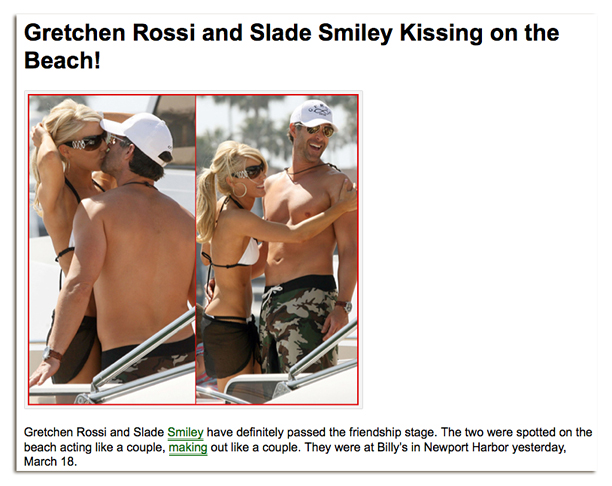 To add to all the confusion, Gretchen recently
snarked

responded to a comment on her website stating the

shomance

romance began 9 months after Jeff passed away. Sept. '08 + 9 months = June '09. Now how would that explain all the

staged

photo's that surfaced in March? Had they been altered? Were they taken when Gretchen was in college, before she had even met Jeff? Were they from New Years Eve?

So exactly when did the young empire builder and the out spoken business consultant find
lust

love? February? March? June? (when did Photoglou's and Rossi's relationship end?) But really, at this point does it even matter? What's important is they're together and they're happy… it's all about the puppy dogs and rainbows.

  They say tomato we say tomahto…
However, I did come across something worthy of a second look.
As noted in the court document below, Jay's relationship with Gretchen lasted from January 2008 through February 2oo9.

The following statement was made by Jay Photoglou after his break up with Gretchen.
"As of Yesterday I am no longer with Gretchen. We had made an agreement that she would have nothing to do with Slade after last time she dealt with him and he demanded a personal relationship go along with what he was calling a business relationship. She broke our agreement and had dinner with Slade and one of his "business partners". Gretchen walked away from me when I reminded her of her agreement to me and as she put it "gave her an ultimatum…."
Ironically, it's dated 2/10/08, one day after she had dinner with Slade and they broke up. Is it a coincidence that

one year to the day

after, Gretchen and Jay broke up, Gretchen and Slade are "celebrating" closely followed by a "anniversary" celebration in Las Vegas? Birds of a feather…

Opportunist – One who takes advantage of any opportunity to achieve an end, often with no regard for principles or consequences.
---
3 Responses to " Birds of a feather… "
Comments:
baby ga ga says:
February 27th, 2010 at 7:39 pm

She also said on the show that Jo and Slade broke up 4 years ago – wasn't he claiming his love for Jo on Date my Ex last year???
And she said Jo was called first before they started dating, but Jo says gretchen called her and told her they were dating when Slade was arrested – which as you said was Feb 20th. So two errors – one, she didn't talk to Jo before they started dating and they started dating prior to Feb 20th which is 5 months. She told Doogal that she had been dating Slade for how long? Show was filmed in the summer last yeat….

photglueitupurpatootie says:
March 17th, 2010 at 1:46 pm

Lawd this is still going on? talk about beating a dead horse for money. It is not for his reputation. Who gives a fack but him? I do hope you hang around though cause this here is the best read in a while. I was crying I find him funny. hehehehehehehe. Thanks.

photglueitupurpatootie says:
March 17th, 2010 at 1:47 pm

one year to the date of the masses of the date that he went to the market.lmao huh. She is not even that important either. geez beat it just beat it. The dead horse of course.lol
Leave a Reply