Mon 16 Jan 2012
This is simply amazing. It tugs at my heartstrings in so many ways. My love for the ocean, my love for sea life, my once in a life time experience with both mentioned.
It will put a smile on your face.
I promise.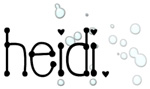 ---
One Response to " Sealed…With A Kiss "
Comments:
kat says:
January 25th, 2012 at 2:33 pm

That is so cool. Have you heard of a website called Godvine.com. They love this type of video.
Leave a Reply